Akihabara – World leading electronic city in Tokyo Japan
Akihabara, generally called AKIBA, is well known as a world leading electronic city, and also for ANIME and COSPLAYERS culture.
It is located in Taito-ku in Tokyo Japan and 2 stops away from Tokyo station.
People call AKIBA as a holy land of "OTAKU" which means geek! You will see completely different culture you have ever seen.
In this columun, some characteristic places will be introduced.
1. Biggest electronic retail store "Yodobashi Camera"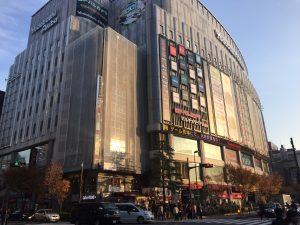 There are many electronic retail store in Akihabara. Yodobashi Camera is most enormous retail store selling many type of products such as appliance, computer, celephone, games and so on. You can find whatever you want and will love this store.
If you go there for dating, you do not need to concern about lunch or dineer as there are 30 restaurants at 8th floor having steak, Japanese, Italian, Korian, Thai etc…
The feature of the store that staffs at Yodobashi are very knowlegible for each products. If you consider purchasing someting and do not have idea for specific item, it would be nice to ask their recommendation. But, make sure to negotiate with them for price before making final decision on a big purchase as thier price are usually open for negotiation.
Generally, foreign travelers feel language issue in Japan but there is no issue at Yodobashi as there are some staffs who can speak foreign language.
Store: 9:30am – 10pm
Restraurants: 11am – 11:30pm Access: Central gate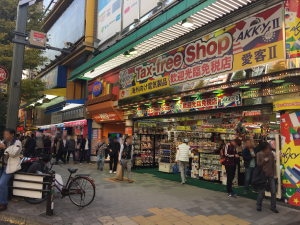 Surely there is duty free shop in Akihabara.
2. ANIME culture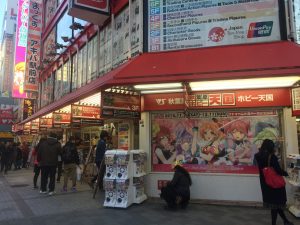 If you are big fun of ANIME, you can enjoy Akihabara as you will see publicity poster all over the place and find goods you want. There is any other place in the world that has ANIME culture.
There is a famous ANIME cafe in Akihabara named GUNDAM cafe.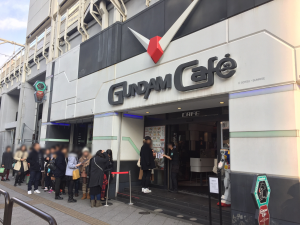 Gundam is a Japanese anime about giant robot mobile suits piloted by human. Staff at Gundam cafe are dressed in Gundam uniforms and greets like ANIME character.
The cafe sells food and goods related to Gundam.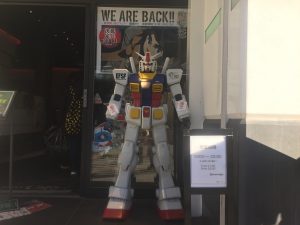 Model in front of cafe.
Cafe: 10:00am – 10:00pm (Weekdays and holidays)
Access: West Exit
3. Idol culture & COSPLAYERS
If you love Japanese young idol, you surely know AKB48.
AKB48 is extremely popular J-POP group made up of girls and is almost certainly biggest idol group in the world. Total number of the girls is more than 300 girls. Akihabara is origin of AKB48 and thier cafe is located.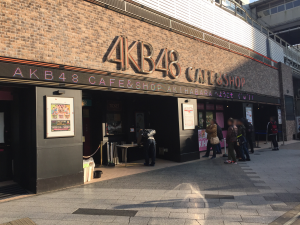 AKB48 cafe is located next to Gundam cafe.
Other than idol group, there are a lot of Cosplayers in Akihabara.
They are sometimes individual but many of them works at Maid cafe that you can enjoy talking with young girls.
As we have introduced, Akihabara in Tokyo Japan is completely different place with others.
Hope you have chance to visit there.
Good luck for everyone!!