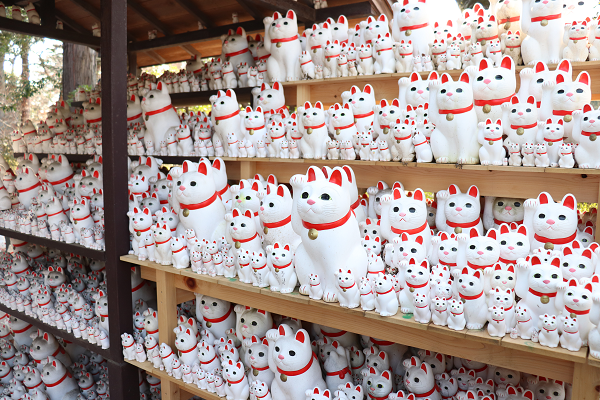 Meow, meow… Mew, mew… Because of the number of Maneki Neko (Lucky cat), you may hear the sounds in Gotokuji temple!!
Gotokuji temple is very famous temple for Japanese ornament of lucky cat called Maneki Neko. Maneki Neko is known that gathers "Money" and "People"!!
Please check another article for more detail about Maneki Neko from this link.
Gotokuji temple is located in Setagaya-Ku that area is western area of Tokyo and known as place of origin for Maneki Neko. This temple belongs to Souto sect and was built in 1480. There are some ancient traditions for Maneki Neko's history but Gotokuji temple story is one of most believed one.
Before reading this article, please check video below as it introduce Gotokuji temple!!
History
When Mr. Naotaka Ii who was second general load of one of famous clan passed through the front of Gotokuji temple on the way to back home, he was invited to the temple by a cat raising hand. While he was taking a rest in the temple, it became heavy rain and he could avoid it. He appreciated a cat and temple, and gave large amount of donations to Gotokuji temple. Because of this, Gotokuji temple became family temple of Ii family.
Gotokuji temple was suffering from poverty before Mr. Ii came there. Priest of the temple also appreciated cat and built tomb after the cat died. Also priest made goddess of Mercy of cat and it is worshiped even now.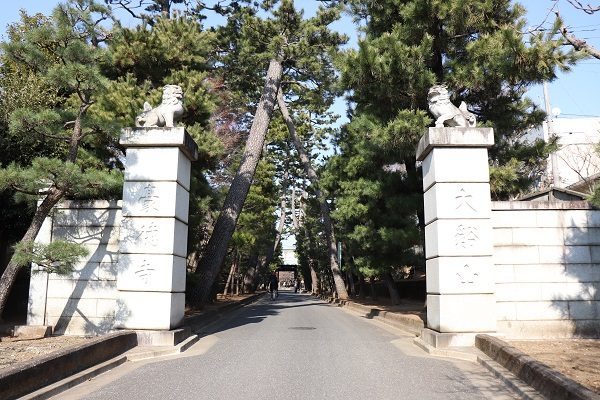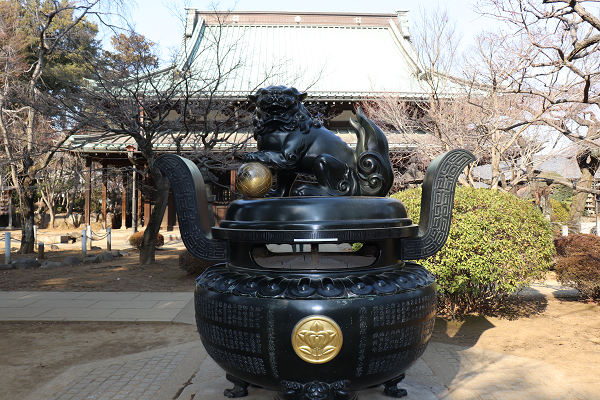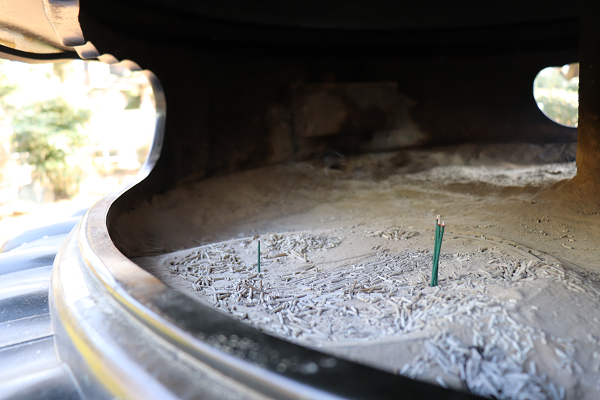 After you passed the front gate of Gotokuji temple, you will see statue of lion in front of main shrine. Visitors should purify our body and soul at the statue as it is said incense purify human's body and soul. There are incenses and lighters under the statue, so light a stick of incense and put it in the ashes located under the statue. This act should be done not only at Gotokuji temple but also at the other temples.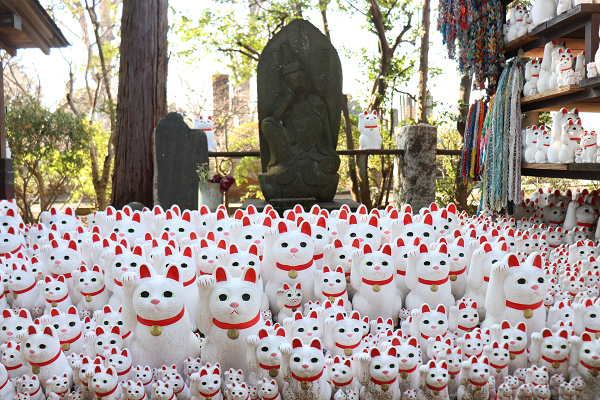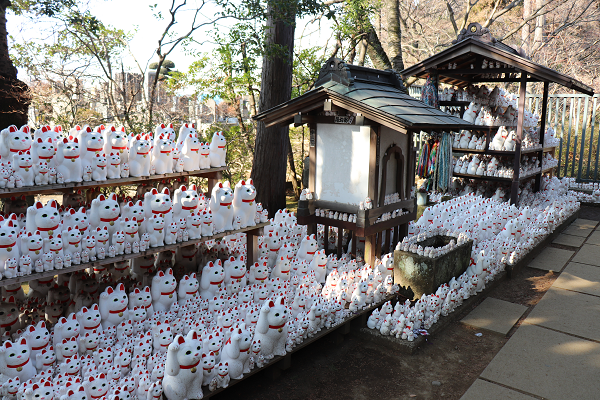 Large number of Maneki Neko are stand around stone statue of Buddha. It let us being healed only by looking it.
All Maneki Neko were offered from visitors to Gotokuji temple as they are believed to make wishes come true. Offering traditional things to Buddha or god is called "Hono" (Offering) and the traditional things are different depending on temple or shrine.
Basically, hono takes place in January. Therefore it is recommended to visit Gotkuji temple around beginning of years if you like to see a lot of Maneki Neko.
Maneki Neko at Gotokuji temple does not hold Koban (Old Japanese gold coin) although usually they have it recent years. It is said original Maneki Neko did not have it and getting grace of Maneki Neko relies on yourself.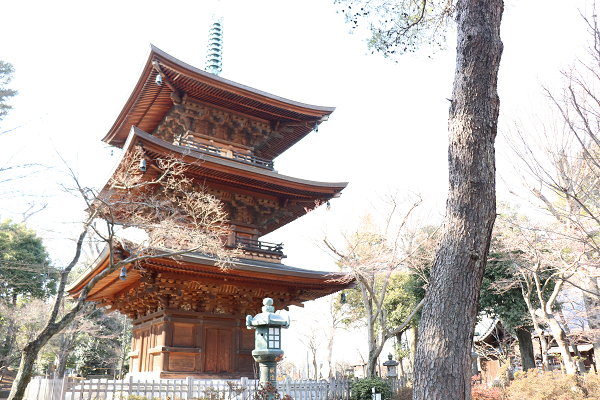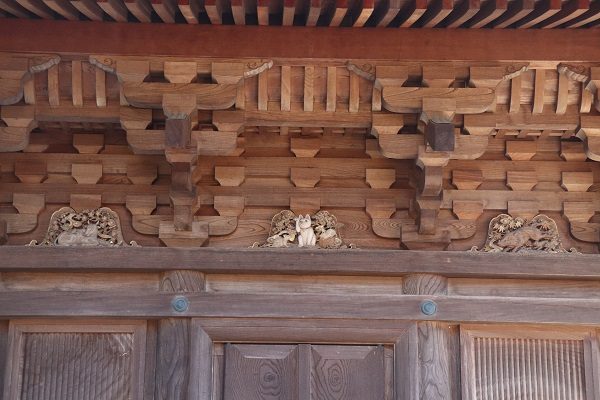 There are a three storied pagoda in the area of Gotokuji temple that the pagoda was built in 2006. Chinese zodiac are carved at each stories and Maneki Neko's sculptures are also located there!! On the both sides of Maneki Neko, mice are giving Koban (Old Japanese money) to the cat.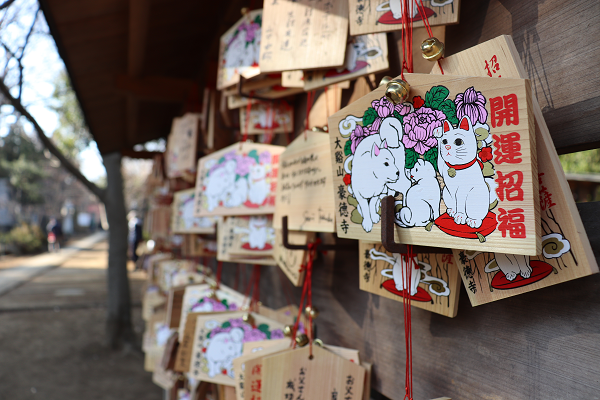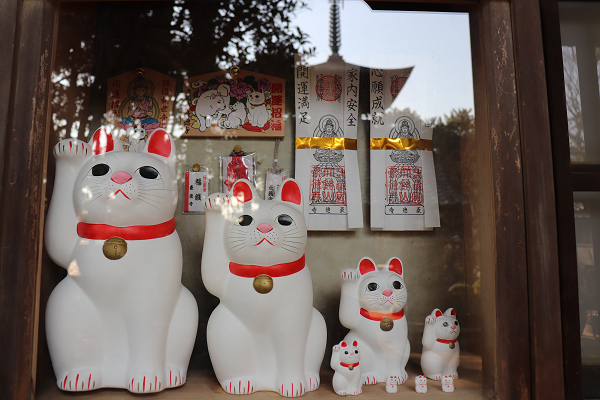 Various goods are on sale at the reception of Gotokuji temple.
There are several sizes of Maneki Neko and lowest price is 300 yen! It is said that the size of Maneki Neko does not effect to your fortune, therefore you do not need to care about the size.
There are charms for your specific wishes such as safety for your family and for prosperous business. They also have "Ema"(Usually horse picture) with image of Maneki Neko and zodiac animal of the year.
Choose you best souvenirs!!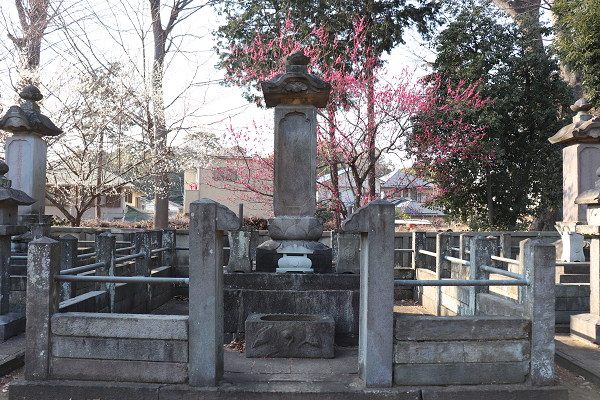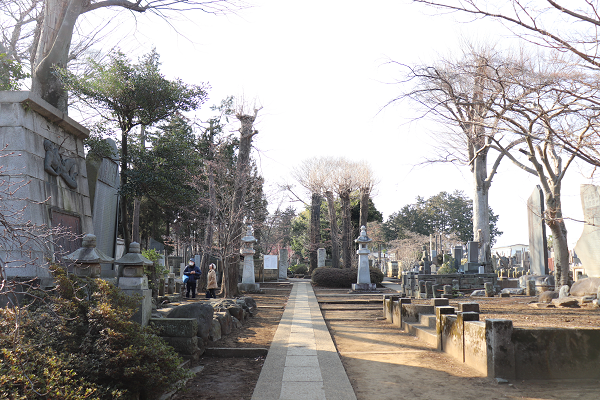 In the tomb area, there are many people of Ii family such as 6th general road of clan Naotsune Ii, 10th general road of clan Naoyoshi Ii, 12th general load of clan Naohide Ii, and 15th general road Naosuke Ii who was chief minister of Edo Shogunate and was killed at famous battle "Sakuradamon-no-hen". When you step inside the tomb designated as a National Historic site, you can fell serene atmosphere of the tomb surrounded by trees.
The tomb shown in picture above is for Mr. Naotaka Ii who got grace of Maneki Neko.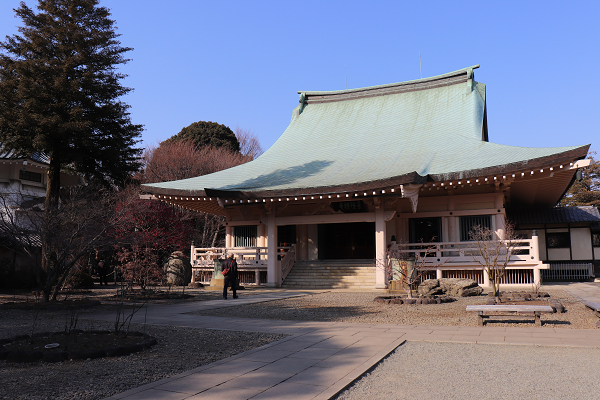 Hondo (Main temple) was rebuilt in 1967.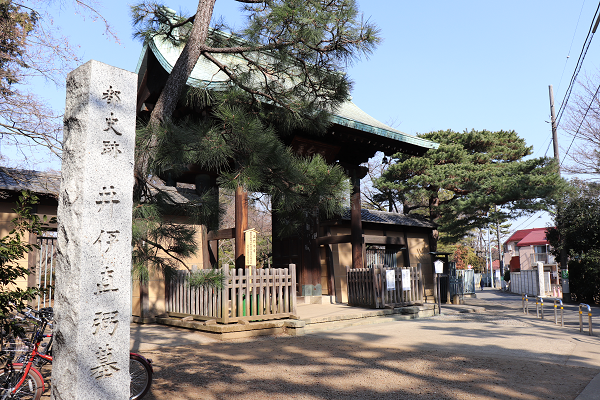 Gotokuji temple gate named Sanmon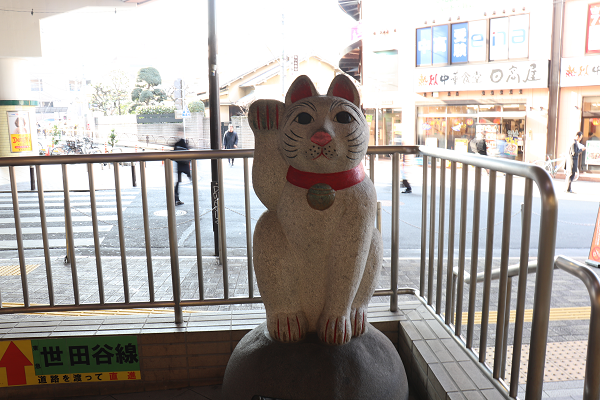 In front of the gate of Gotokuji station on Odakyu line, a statue of Maneki Neko welcome visitors!! Your travel to the temple starts from here!!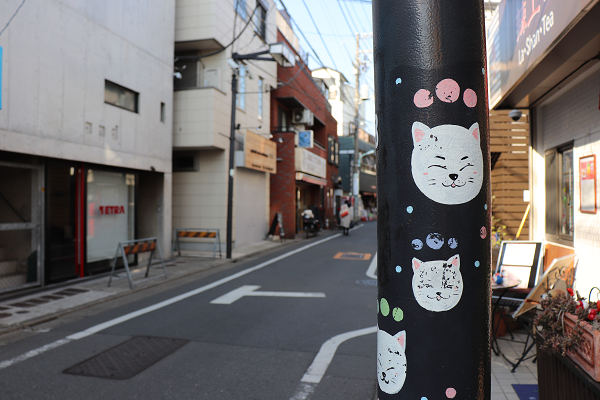 From the station to Gotokuji temple, pictures and drawing of cats are hiding all over the place and almost all of stores and restaurants display Maneki Neko! You can enjoy variety of cats on the way to Gotokuji temple.
Open
06:00 – 19:00
Closed days
No closing day.
Entrance fee
Free
Access
Miyanozaka station on Setagaya line: 5 minutes by walk.
Gotokuji station on Odakyu line: 10 minutes by walk.