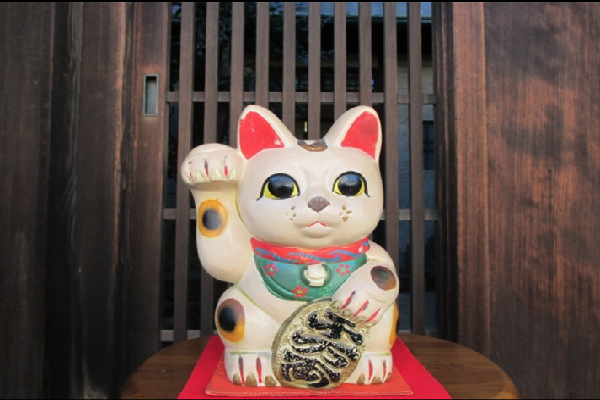 This is the ornament of cat that invite "Money" and "People"!! The ornament called "Maneki Neko" in Japan means lucky cat.
The lucky cat is raising hands and the grace of god is different depending on right hand or left hand. Therefore it is recommended to select the type of Maneki Neko based on your wish!!
Raising right hand: Gather money!
Rasping left hand: Gather people!
In addition to right hand or left hand, length of the arm of lucky cat should be checked.
It is said that the length of arm is considered how much the lucky cat can gather money or people. Therefore long arm lucky cat can gather them much more. If the arm is upper than ears, the lucky cat is perfect!!
Maneki Neko has an oval gold coin called "Koban" formerly used in Japan as money. currently Maneki Neko has it but did not have it before 50 years. It used to hang a bell around the neck and the appearance was very simple.
The style has been changed with the passage of time and current Maneki Nekoko has several type of Koban. Basically, Maneki Neko has Koban written amount of money such as 千両 万両 百万両 億万両 but currently has good luck(開運), long life and happiness(福寿), and great number of customers(千客万来). It is said that amount money has been increased with the passage of time.
We can understand trend of the times by the type of Koban.
Color of Maneki Neko
Basically, color of Maneki Neko is white but there are several colors that have unique meaning by colors.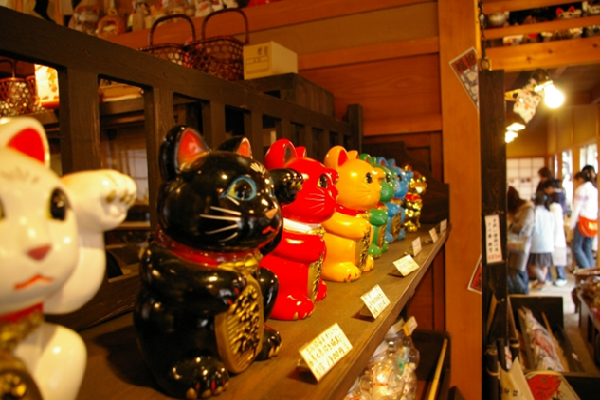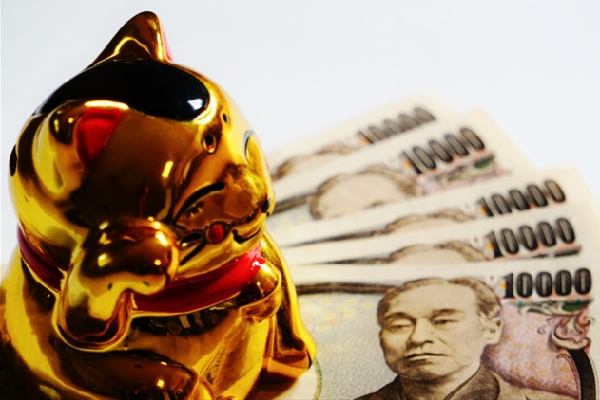 White Maneki Neko
This is standard Maneki Neko that brings happiness for everything for our life.
.
Black Maneki Neko
This type is known as giving luck for amulet, protective charm and home safety.
Black cat seems little bit scary but it protect you from evil.
It is said that black cat used to be guardian god for one of temple in Kyoto as it has sharp eye at night.
Gold Maneki Neko
Probably, the grace of this maneki Neko is nothing to say… It gives luck for money!!
It is usually given as present for people who established company and restaurant.
Red Maneki neko
This type of Maneki Neko has grace of god for health and longevity. Before vaccine was created for smallpox, the disease was known as disease of dead and it is said that smallpox devil hate red color. Therefore people made red Maneki Neko as lucky charm for health.
Pink Maneki Neko
Pink Maneki Neko is relatively new one and was made for fulfillment in love. There are pink Maneki Neko that has a heart instead of Koban (Japanese old money).
Yellow Maneki Neko
This is similar one with gold Maneki Neko and has grace of god for money. In fang Shui(Chinese geomancy), yellow color is believed as inviting lucky for money.
Blue Maneki Neko
This type of Maneki Neko has grace of god for improving one's academic. It can be recommended for students!
Green Maneki Neko
This type was made to pray safety for one's family and traffic.
In fang Shui (Chinese geomancy), green is believed to keep peace and green goods should be put at south part of house.
Below is the perfect Maneki Neko for money!! The color is gold and arm is long!!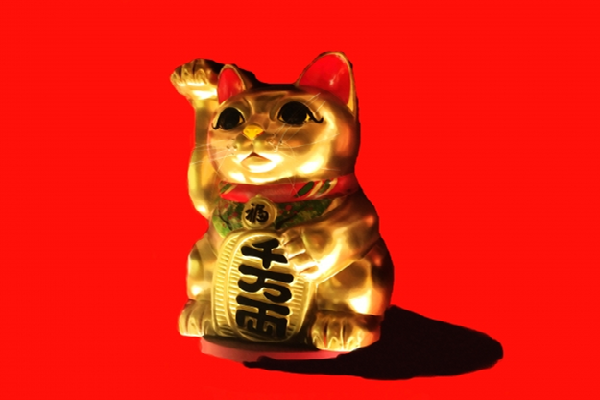 History
There are some ancient traditions for Maneki Neko's history and below is three famous stories.
Gotokuji temple story
One of most famous tradition is from Gotokuji temple in Tokyo. When Mr. Naotaka Ii who is second general load of one of famous clan passed through the front of Gotokuji temple on the way to back home, he was invited to the temple by a cat raising hand. While he was taking a rest in the temple, it became heavy rain and he could avoid it.
He appreciated a cat and temple, and gave large amount of donations to Gotokuji temple.
Because of this, Gotokuji temple became family temple of Ii family.
There is another story of Maneki Neko with Gotokuji temple. When Naotaka Ii was under tree to avoid heavy rain in Gotokuji, a cat invited him and he went close to the cat. At the moment, thunder fall in tree and he survived.
Either case, Naotaka Ii was helped by cat!!
After the cat passed away, they built a grave for cat and there is still Maneki Neko hall in Gotokuji temple. Statue of Maneki Neko is enshrined there.
Prositute story
Yoshiwara, famous spot for prostitute and there was popular prostitute "Usugumo" in Edo period (1603-1868).
She was a big lover of cat and made many things for her cat such as gold bell on the neck and bed. One day, while she was taking bath, her cat was roaring looking at one point. Because the cat did not be quite, the owner of her store cut cat's neck. Although the cat was almost dead, the cat bit poisonous snake to death. Accordingly, cat was trying to protect her and dead.
Because Usugumo was extremely sad, one of owner for store at Nihonbashi area made wooden statue of the cat for her. After that, there was a person who made the imitation of the statue and sold it at Asakusa area, and was sold well.
It is said that this story is the beginning of Maneki Neko.
Old women story
There was an old woman who loved cats so much. However, she had to let her cat go because she was very poor. At the day, cat appeared in the dream of the old woman during sleeping. And the cat said her to make 今戸焼(pottery sold in Asakusa) of the cat having a sign of 〆.
After that, the pottery was sold very well and became famous lucky charm. The story is also known as origin of Maneki Neko.
Maneki Neko piggy box
There is unique goods for Maneki Neko and one of nice one is piggy box (money box)!!
In fang Shui (Chinese geomancy), it is said that Maneki Neko raising left hand should be bought at first, then raising right hand should be bought.
This is based on "Money are brought by people!!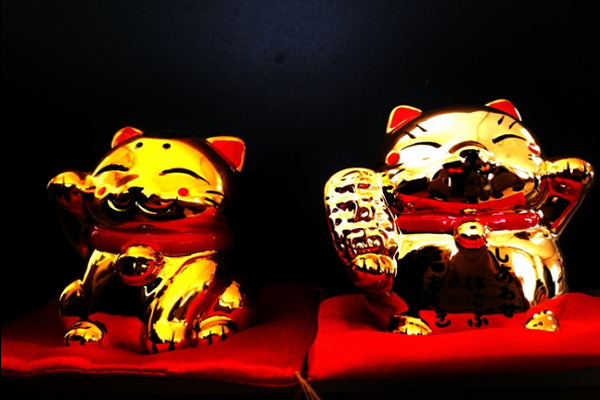 If you are fun of fang shui, a place where piggy box put should be considered based on direction below.
East: Person who like to buy car.
Southeast: Person who like to save money for travel and marriage.
South: Person who like to save money for education.
Southwest: Person who like to save money for medical expenses and living cost.
West: Any purpose is OK
Northwest: Person who like to save money to start business.
North: Person who like to save money.
Northeast: Person who like to save money to buy home.
Center: Person who like to save money for fulfilling dream.
Enjoy your shopping in Tokyo!!