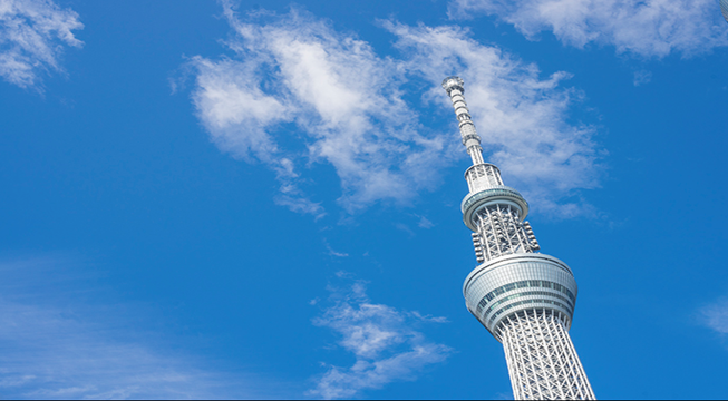 Tokyo Skytree is a major symbol of Tokyo and is the highest stand-alone communication tower in the world opened in May 2012. The hight is 634 meters and 6.3.4 can be read as "Musashi" which is a historic name in Japan.
The name "Tokyo Skytree" was decided by internet voting with total votes 110,409 with a concept of "Based on big tree growing towards the sky, the city would be frendly for people and environment, and people from all over the world gather and create a new culture"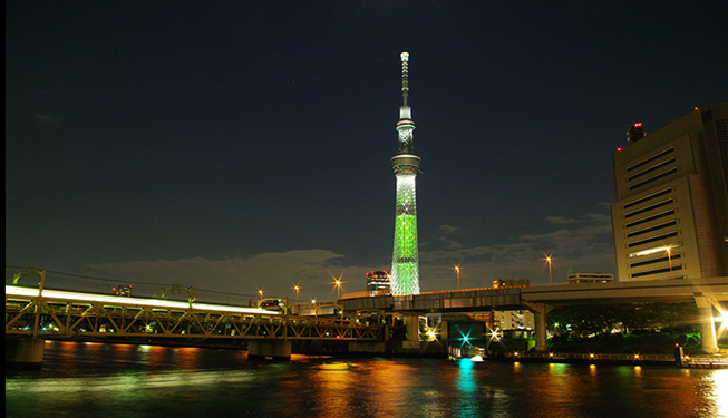 Tokyo Skytree has two heavenly observation decks where you can see whole Tokyo view and the hight of floors are 350m and 450m.
After sunset, it is also known as classic dating spot where you can enjoy a romantic night view.
The lower floor, hight 350m has three levels with great views from all of levels. The feature of top level offers 360 degree panoramic views of Tokyo. The second level has French-Japanese combination restaurant named "Musashi Sky Restaurant" with great views. Probably this level is the best for dating.
The lowest floor has a cafe where you can take relaxing time with the views and also has glass panel on the ground that you can see the ground of Tokyo Skytree from 350m height.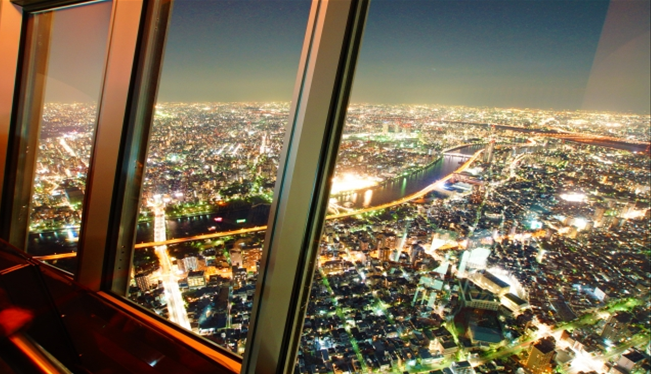 The 450m deck has Tembo galleria with highest skywalk in the world. The Tembo Gallery consists of a sloping spiral ramp which gets height as it circles the tower and the highest point is 451.2m. While walking from bottom to highest point, You can see perfect view of Kanto region.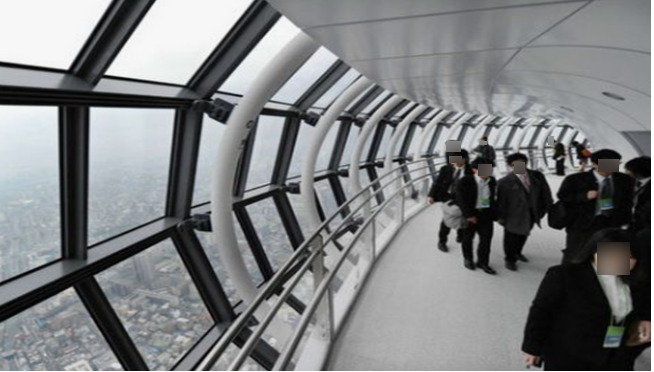 Hours & Admission Fees
Hours: 08:00 – 22:00 (Entry until 21:00)
Closed: No closing days
Admission fees
Lower observation deck (350m): 2060 yen
Higher observation deck (450m): 1030 yen in addition to 2060 yen
For foreign tourists only
Fast Skytree ticket (350m) : 3000 yen
Fast Skytree combo ticket (350m+450m) : 4000yen
Fast Skytree tickets are specific type of tickets which is more expensive than standard tickets but it allows people to skip the line on your way to the main observation deck without waiting time.
Prior reservation
Prior reservation is possible by internet from two months before visiting date, however laungage of internet registration system is in Japanese only and limited to purchase by credit cards issued in Japan.
Access
Train
Tokyo Skytree station on Toubu Skytree line : Less than 5 minutes by walk
Oshiage station on Hanzoumon line : Less than 5 minutes by walk
Asakusa station on Tokyo metro Ginza line : 15 minute by walk
Kinshicho station on JR Sobu line : 30 minutes by walk
Shuttle bus
This is probably easiest way coming from following terminal stations to Tokyo skytree town by shuttle bus.
Tokyo station : 30 minutes, 520yen
Ueno station : 30 minutes, 220 yen
Haneda airport : 60 minutes, 920 yen
Tokyo disny resort : 50 minutes, 720 yen
Good luck for everyone!!